Hotel «Huzul» is situated in the quiet outskirts of Kosiv located in the Prikarpattya area of the Carpathian Mountains and is easily reached within a couple of hours driving from Lviv or Chernivtsi. The center of Kosiv is only a few minutes walking from the hotel.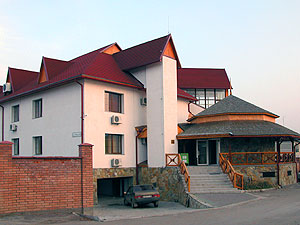 The large two-storeyed «Hutsul» building is a new complex, recently completed, set in its own gardens and comprises four individial apartments, two ground and two first floor and is built to very high and modern standards.
Each of the extremly spacious apartments can comfortably accommodate seven people and makes them an ideal choice for groups or families, friends or couples wishing to share. Individual rooms may also be booked but shower rooms, toilet and lounge facilities are shared. Each room however has its own wash hand basin.
The restaurant has a very wide and varied menu from both national and European cuisine. English pub treat you with a refined various drinks and beverages.
Guests facilities include:
Secured garage parking;
Reception area with safety deposit;
Satelite TV, air conditioning and telephone in bedrooms;
Separate lounge/sitting room with convertible bed-settee;
Restaurant and pub;
Swimming pool and sauna;
Massage room;
Internet cafe, computer club;
Library;
Individual back up generator for emergency electrical power.
The hotel can arrange conferences and all kinds of meetings and has special deals for business seminars. There is everything in place to do business as required.
To ensure that clients make the most of the historic, cultural, craftsmanship and religious traditions of the Ukrainian hutsul and experience the beautiful nature, picturesque mountains, rivers and lakes in the clean and fresh air of the Carpathian Mountains, there is a specialist travel company within the hotel complex providing organised excursions to suit all tastes.
Hotel «Hutsul» organize excursions to various museums, exhibitions of local art and traditions for which the area is famous, mountain excursions with coach for sightseeing purposes (including numerous visits to the unique and famous churches for which the region is world renowned), mountain walks (including Hoverla — the highest mountain in Ukraine), mountain bikes hiring.
Hotel is also provide accomodation for clients on skiing holidays in the resort of Kosiv. Ski shop for winter sports with ski equipment hiring available.
Friendly and well trained staff of hotel «Hutsul» are waiting to welcome you for a holiday of a lifetime — it'll be an experience you will never forget!
---
Address:
30 Tykha street
Kosiv, Ivano-Frankivsk region
Ukraine, 78600
Phone/fax: +380 3478 24548