Different natural conditions of Ukraine caused a rich and varied animal world to develop — almost 44,8 thousand kinds — mammals, birds, fish and reptiles. Many among those are used by fur, hunting and fishing industries.
The fauna of Ukraine is divided into three zoo-geographical regions — Podil region, Ukrainian mixed region and Ukrainian plains region, as well as out-of-zone regions: Ukrainian Carpathian region, Crimean mountain region and the region of the shores of Azov and Black seas.
Podil zoogeographic region has such typical forest representatives like bears wolves, squirrels, lizards, various birds, frogs, insects and snakes.
The mixed zoogeographical region is inhabited by representatives from both the forests and plains. Typical animals include various rodents and birds, hares, turtles, frogs and rarely deer. Insects include bees. The plains region boasts various rodents, hares, birds and reptiles, deer, pheasants and water rodents.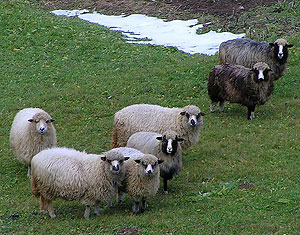 Carpathians sheeps
The fauna of Ukrainian Carpathians is similar to that of the Podil region but varies with altitude and type of vegetation. There are very few reptile representatives here.
In Crimean mountain region live representatives similar to those of the neighboring European sub region and relicts of Mediterranean origin. Such animals as deer, wild boars, hares, pheasants and others. The southern shore boasts various birds and reptiles.
The region of Azov and Black seas includes the shores as well as the islands. The fauna here is rich in hares, various rodents, doves, ducks, and other birds. In Azov-Syvaskyy and other natural preserves live deer and various fur animals and a wide variety of birds. In the surroundings of rivers Dunai and Dnipro there are many kinds of water birds like ducks, swans and others, including traveling pelicans.
In the Black Sea there are up to 2,4 types of animals and in the Azov Sea — up to 400. The largest fish include bimra and tuna. Both the seas are rich in various fish used industrially such as salmon, herring and others. There are dolphins and sea pigs here.
The fauna of the continental lakes and rivers is represented by 6,6 thousand kinds. In Dnipro and other rivers there are many types of fish like carp, salmon and others.
Eighty-five kinds of rare animals are entered into the Ukrainian Red Book along with some kinds that are threatened with complete extinction.