Ukraine is an East European state that is situated mostly on the East European plains, Ukrainian Carpathian Mountains and Crimean Mountains. From the north to the south Ukraine measures 893 km and from the west to the east — 1316. Geographical center of Ukraine is the town of Dobrovelychivka of Kirovograd region, where in 1990 a symbolic monument was established. The geographic center of Europe is situated near the village of Dilove of Zakarpattia region.
The Boarders
Ukraine has both land and sea borders that were formed historically. Their lengths add up to 7590 km. The 5631 km long land border is composed of three areas: western, which was formed problematically during the World War II; northern and eastern, decided by the soviet leadership. On the land, Ukraine borders Russia (2063 km), Bilorussia (975 km), Poland (542,5 km), Slovakia (98,5 km), Hungary (135,1 km), Romania (608,6 km) and Moldova (1194 km).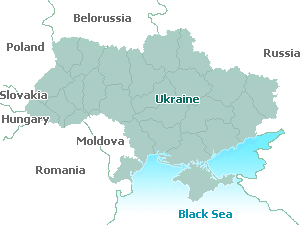 The Ukrainian land border stretches from the Dunai River in the west to the Azov Sea in the east.
The sea border of Ukraine is 1959 km long and connects it to all the countries of the world with sea access. It starts to the northeast of Odessa, around the Crimean peninsula and ends to the west from Taganrog.
Ukraine has a wide, almost 2590 km long exit to the EU states and is not more than 2000 km away from its capital Strasburg.
The Territory
The territory of Ukraine is 603,7 thousands square kilometres, larger than any other European state, including France, Spain and Germany. Due to its favorable situation in the centre of Europe, Ukraine is a transit point for passengers and goods from many other countries.