Ukraine is one of the biggest states in Europe. It's territory is 603,700 square kilometers and the population is over 47 million people. Our state has 475 districts. Hutsuls live mainly in six districts Verkhovynskomu, Kosivskomu, Nadvirnyanskomu, Rakhivskomu, Vyzhnytskomu and Putylivskomu. Also, Yaremche is a Hutsul town, also it does not have clear borders. In the whole it embraces the eastern part of the Ukrainian Carpathians.
Scientist-geographer Volodymyr Kubijovych defines the territory of Hutsulshchyna as 6500 square kilometers. More than 80 Hutsul settlements are situated in this territory with over 150,000 native Ukrainian inhabitants.
It is one of the picturesque corners of our Motherland. Covered with forests on it's tops there are polonyny, multicolored meadows with a great number of medicinal plants, gurgling streams and rivers with numerous waterfalls and clear fresh air. All this always attracted and will attract who likes nature.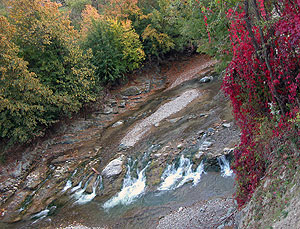 Interesting unique country is Hutsulshchyna. In the territory of Rakhiv district, near the village Dilove, there is the geographical center of Europe. In Hutsulshchyna soaring up to the clouds is the highest mountain of Ukraine Hoverla 2061 meters above sea level. In Chornohora at 1801 meters above sea level lies the highest Alpine lake in Ukraine — Brebeneskul with 4000 square kilometers.
Hutsulshchyna is the most foresters and the wettest part of Ukraine. The biggest rivers are Prut, Tysa, and Cheremosh. One can't count small rivers and streams.
At the highest altitude in Ukraine, 2010 meters above sea level, lies the mountain Pip Ivan. The tallest tree grows in Hutsulshchyna. This is a large European 54 meters in high in Rakhiv and the shortest willow — tree obtuse leaves that hardly reaches 15 centimeters on the mountain Bluznytsi.
The biggest in Ukraine, the Carpathian Biosphere Reserve covering 38,930 hectares and the Carpathian National Natural Park covering more than 50,000 hectares, is situated in our district.
The beauty of our nature is shown in many poems and novels. Sounding in them an alarm for it's destiny. Read these novels. Let them make you watchfully serve our forests, rivers, meadows and the animal world.