People live due to the beauty, it can not only create but also make itself immortal in wonderful.M. Stelmakh
Ivano-Frankivsk region is located in Prycarpattia, the southern part of Ukraine. It's geographic form reminds one of the rhombuses. Prycarpattia occupies a rather compact territory. It stretches over the distance of 185 km from north to south and 150 km from east to west. The total area equals 13,5 thousand sq km. Among the Ukrainians of our region there are following ethnic groups: Hutsuls and Boiky. Hutsuls live mainly in Nadvirna, Verkhovyna and Kosiv.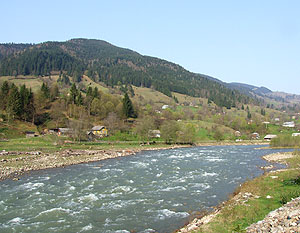 I'm lucky to live in this blessed Hutsulian region with Kosiv being the center. Hutsul'shchyna has attracted people for a long time. Kosivshchyna has been inhabited since ancient times. The oldest archeological finds in the territory date back to the 20th century BC.
Kosiv appeared as a village in times of Halych-Volynian princely at the beginning of the 14th century and as a town in 1565. Picturesque mountains covered with fir trees and crisscrossed by swift-flowing rivers and winding mountain paths attracted people, by the way, with salt resources. Kosiv was founded near one of them. 5–7 thousand tons of salt were mined annually here. Later this region was under the dominion of Poland (end of the 14th century), then Austria (end of the 18th century), after that again Poland (1918–1939), and from 1939 it was annexed to the USSR.
Over 600 years Hutsuls lived under foreign oppression, but they didn't submit. They preserved their language, way of life, customs, and art. They had constantly been fightingagainst their subjugators.
In the 16–18th centuries this struggle grew into the form of Opryshky movement. Opryshky were people who initiated armed conflicts against their oppressors. The most famous of them was Olexa Dovbush (the 18th century). His glory is heard around Hutsulshchyna nowadays. His struggle and deeds remind one of the generous robber Robin Hood.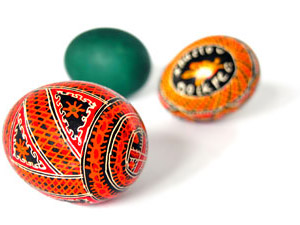 This region thrills the world with wood-carving, poker-work, weaving, embroidery, ceramics, pysanka-making. Pysanka is an unsurpassed treasure. And we are proud of it. It is the symbol of spring, Easter, peace and wealth. It brings warmth and joy. Especially popular are those of Kosmatch.
We have the State Institute of Applied and Decorative Arts in Kosiv. It's a unique educational center which preserves and interprets Hutsulian traditions. It has its own museum which displays real works of art, some of them are authentic.
I can't help telling of Hutsulian customs and traditions which date to the far past. Many of them are connected with cattle-breeding, the main occupation of Hutsuls. At the end of May they have great celebrations seeing-off of the cattle to the mountain pastures (polonyny). Especially magic are traditions and ceremonies on Christmas, New Year, Easter, St. Yuriy etc.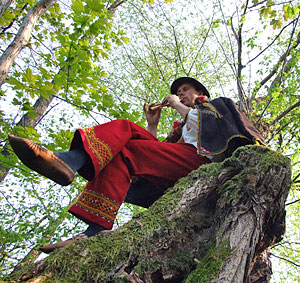 The hospitality of Hutsuls holds infinite attraction for holiday-makers. Our words, music, and choreographic folklore impress with their richness. Once you hear a Hutsulian song you will never forget it. They describe our way of life, nature, history and ambitions.
We have many religious holidays that are widely celebrated by common people. These feasts are called khramy. Mountain people prepare their favourite dishes, which are very nourishing, ecologically clean, nutritional (for example, kulesha and banush from corn-flour, sour-milk brynza — salted cheese, mushrooms etc).
If you are tired of the hustle and bustle of the city and look for shelter in the mountains, clean rivers, emerald woods with their beautiful Carpathian straight fir-trees; if you dream of walking barefoot while the dew is still on the ground at dawn, to hear the birds' chirp, to pick a ripe berry with your own hands from the bush or to cast the line into the pond, you are welcome to our unforgettable land called Hutsulshchyna.